Always be on the safe side
At MATTES, Hi-Pro is short for High Protection. Our clever combination of fleece made specially for us in Europe, leather impact protection on the inside and POLY-FLEX® shock-absorbing linings guarantee maximum protection for your horse. To allow easy adjustment, there is a highly elastic and robust Lycra stretch panel running the full length of the boot, ensuring that material fatigue won't be a problem.
Available for delivery in 3-4 weeks
Sophistication down to the slightest detail
Our Hi-Pro boots with reinforced protection for the splint bones and joints far exceed bandages in terms of their protective effect: slipping and coming loose while riding will be problems of the past. Hi-Pro boots also reliably prevent pressure points and pinching. All parts of the boots, even the leather impact protection, are fully ventilated to reliably prevent overheating.
MATTES Hi-Pro boots are easy to use: they can be fitted and removed in just a few seconds. These elegant boots are fastened with a tough zip, covered with fleece to avoid accidental undoing.
The Hi-Pro boots are available in four different sizes (S, M, L and XL) and can be purchased separately for front or hind legs, or as a set. Replacement lambskin linings and replacement hard shells are available separately. For the leather, you can choose from black, brown or white, while the lambskin is available in more than 30 fascinating colours.
1

A-B
Cannon bone circumference
C-D
Height
E-F
Fetlock joint circumference

2

A-B
Cannon bone circumference
C-D
Height
E-F
Fetlock joint circumference
Size XL
22,0 - 25,0 cm
28,0 cm
30,5 - 33,0 cm
Size XL
23,5 - 26,0 cm
32,0 cm
32,5 - 35,0 cm
Size L
20,0 - 23,0 cm
26,0 cm
28,0 - 30,0 cm
Size L
22,0 - 24,5 cm
30,0 cm
30,0 - 32,0 cm
Size M
17,5 - 20,5 cm
24,0 cm
25,5 - 27,5 cm
Size M
19,5 - 22,0 cm
28,0 cm
27,5 - 29,5 cm
Size S
15,5 - 18,0 cm
22,0 cm
23,0 - 25,0 cm
Size S
18,0 - 20,5 cm
24,0 cm
25,0 - 27,0 cm
Note: Quoted sizes may vary slightly.
Do you need any other dimensions? - Find a retailer.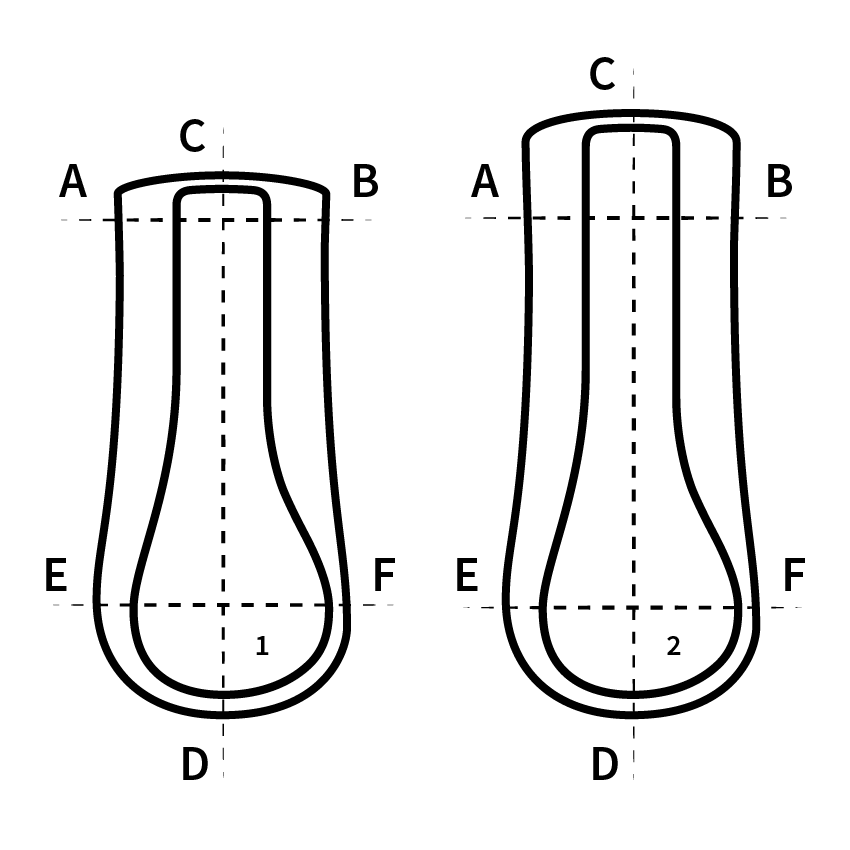 1: Front leg, 2: Hind leg