Freedom of fetlock movement
Our Professional boots have been developed in close cooperation with Klaus Balkenhol, a well-known German dressage rider and trainer. Their unmistakeable design allows completely free movement of the fetlocks - dressage does not require any protection for the outside of the joint, but the hard shell is essential on the inside. The removable lambskin lining protects against pressure and rubbing and can reliably absorb huge quantities of sweat.
Available for delivery in 3-4 weeks
Plastic and quality leather offer protection and durability
The insides of the hard shells of the Professional boots are made of highly resistant ABS plastic, while the tough outer layer is made of quality leather. The hard shells are designed to avoid touching the fetlock joint. Furthermore, MATTES has designed the lower edges to be wide enough that they cannot touch the pasterns; the boots are deeply cut away over the outer edge of the fetlock joint.
The Professional boots are available in four different sizes (S, M, L and XL) and can be purchased separately for front or hind legs, or as a set. Replacement lambskin linings and replacement hard shells are available separately. For the leather, you can choose from black, brown or white, while the lambskin is available in more than 30 fascinating colours.
Note:
Under certain circumstances, dark or brightly coloured lambskin may discolour your horse's hair or other materials due to the horse's sweat or the use of unsuitable detergents.
Strongly coloured leather such as saddles etc. may also leave stains.
1

A-B
Cannon bone circumference
C-D
Height

2

A-B
Cannon bone circumference
C-D
Height
Size XL
26,0 cm
29,0 cm
Size XL
28,0 cm
32,0 cm
Size L
24,0 cm
26,0 cm
Size L
26,0 cm
29,0 cm
Size M
23,0 cm
24,0 cm
Size M
24,0 cm
26,0 cm
Size S
22,0 cm
21,0 cm
Size S
23,0 cm
23,0 cm
Note: Quoted sizes may vary slightly.
Do you need any other dimensions? - Find a retailer.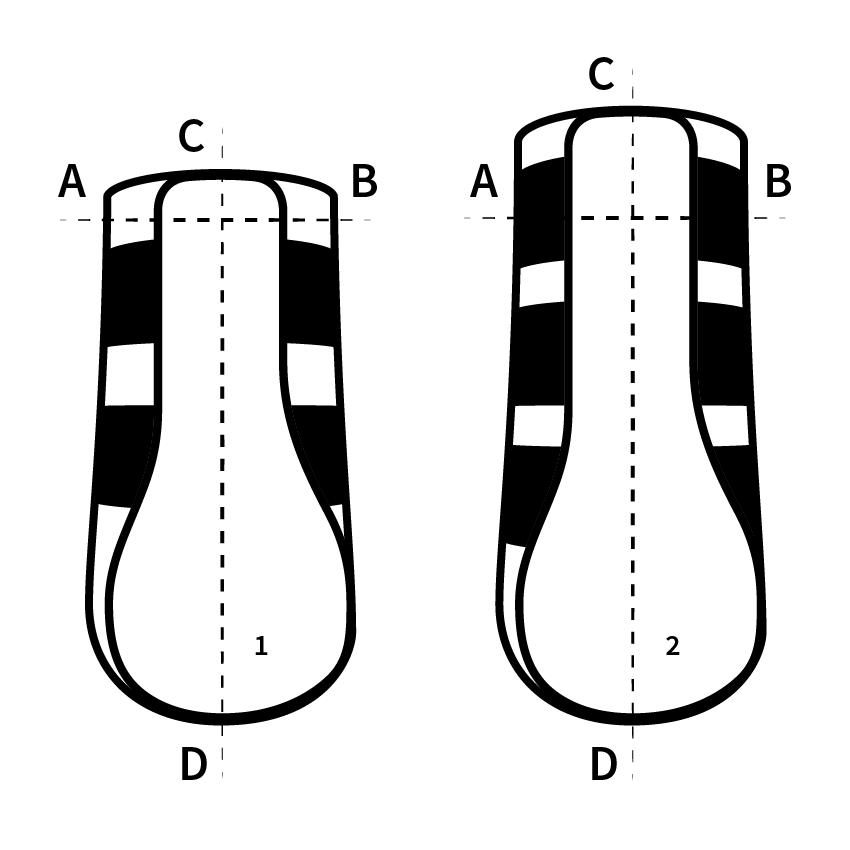 1: Front leg, 2: Hind leg